The Angel of History is Pissed
We won! We regained the majority!
I have repeated this to myself over and over again for the past two weeks, trying to adjust to the feeling of possibility and hope, and to cast off the oppressive feeling of political doom.

For the past six years, I have been tense with rage, as, I'm sure, have many of you. Now that we have won, I wonder: what do we do? how should we be? Politically, it is perhaps time for our elected officials to shift the discourse from outraged, but impotent minority to poised, powerful, and principled majority, in control and ready to steer the country toward the horizon of justice for all. We have seen the rhetoric of bipartisanship and moderation, and discussed its benefits and perils here with intensity.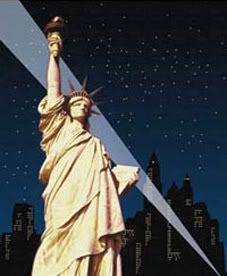 We, the people, elect our officials, and these politicians are our representatives, but we (the people and the politicians) operate in and on different aspects of lived experience, and with different parameters and protocols. Closer to the mechanisms of power, they need to be much more measured and focused in their deployment of productive energy. That is their task--to help materialize our ideals of justice and equality.
But I believe it is always the task of
"we, the people,"
to be the guardians of outrage, to bear the cries of justice for those neglected, disappeared, annihilated, silenced, brutalized, victimized, oppressed, repressed, negated, forgotten. We have wider latitude to form our productive energy in a variety of ways. We, the people, are powered by a freer freedom of expression than are our elected officials. And this for the good, imho. We can sing, shout, march, yell, blog, talk, make art, and express our demands for justice in nearly unlimited ways. And now that our hard work has paid off and we've won, how should we move forward? How should we continue
to make progress?

One of my favorite writers Walter Benjamin reflected on the injustice of so-called progress in "Theses on the Philosophy of History," the last essay he wrote before committing suicide when he thought he would be unable to escape the Nazis. In this highly stylized, poetic, stacatto polemic, he essentially cautions progressives against the complacency of good conscience, and the unquestioned faith in history as steady progress (the politics of faithful patience). Benjamin thought that any movement forward was better powered by memories of injustice than by projections of future happiness, as if the hunger for justice were best "nourished by the image of enslaved ancestors rather than that of liberated grandchildren."

We, the people, animate our elected officials by being guardians of these violent and violated memories; we stir our leaders to action with the passion for justice. We throw open the Overton Window. We roll with the angel of history and the angel is pissed.

Walter Benjamin conjures the angry force of history.
A Klee painting named `Angelus Novus' shows an angel looking as though he is about to move away from something he is fixedly contemplating. His eyes are staring, his mouth is open, his wings are spread. This is how one pictures the angel of history. His face is turned toward the past. Where we perceive a chain of events, he sees one single catastrophe, which keeps piling wreckage and hurls it in front of his feet. The angel would like to stay, awaken the dead, and make whole what has been smashed. But a storm is blowing in from Paradise; it has got caught in his wings with such a violence that the angel can no longer close them. The storm irresistibly propels him into the future to which his back is turned, while the pile of debris before him grows skyward. This storm is what we call progress.
A little while back, I wrote about the so-called division between
purism and pragmatism
. I believe that
we, the people,
can both cry out in the purist voice of rage that animates justice, and channel that rage into a pragmatic politics without sacrificing principles. It's not so much that we need to rage
against
the machine as recognize that from the netroots up righteous rage
powers
the machine, the machinery of government and the rule of law that are our best promise of justice here, now, and in the future.